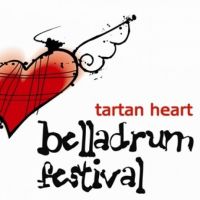 Belladrum Festival 2013 at Belladrum Estate
Friday 2nd August
Venue/Location: Belladrum Estate, Inverness
Doors: 09:00 till 04:00

(Last entry: 23:45)

Min Age: 18

Belladrum celebrates its 10th Birthday in 2013 and we want you to celebrate it with us! The theme is carnival, the tickets are sold out, let's party!
Who's Going to This?
Lineup and Details for Belladrum Festival 2013
'Belladrum Tartan Heart Festival 2013 is now SOLD OUT. Saturday to Weekend Upgrade, Campervan/Caravan Electrical Upgrade, Bar Tokens and Portaloo Sunset options are currently available. Please see below for important ticket information on ticket returns and resale.'
Line-up:
James
Twin Atlantic
Seasick Steve
The Horrors
Alabama 3
Noisettes
Pigeon Detectives
The Straits (Former members of Dire Straits)
Admiral Fallow
King Charles
Dougie Maclean
Rumours of Fleetwood Mac
Peatbog Faeries
Julie Fowlis
Malcolm Middleton
We Are The Ocean
Jacob Banks
Lucy Spraggan
Martin Carthy
Andy Burrows
Treetop Flyers
Skerryvore
Nick Mulvey
My Darling Clementine
Shipcote & Friends
It's a Beautiful Day
Stealing Sheep
Paws
The Dangleberries
Victorian Trout Conspiracy
Meursault
Fatherson
Washington Irving
Baby Strange
Frank Hamilton
Ferocious Dog
Withered Hand
Southern Tenent Folk Union
Davy Cowan
Colin Macleod (AKA, The Boy Who Trapped The Sun)
Anderson, McGinty, Webster, Ward & Fisher
Scooty & The Skyhooks
Coca Tenorio
Brown Bear and the Bandits
Woodenbox
Be Like Pablo
Ashley and the Cosmonauts
The Lafontaines
Shutter
Toby Michaels Rolling Damned
Rick Redbeard
Gavin James
Tich
Macfloyd
Feis Rois
Davy Cowan
Springsteen Sessions
Caledonian Ceilidh Trail
Jericho Hill
Casual Sex
Vasquez
The Oxides
Far
Taghta
Phil Lee
The Galipaygos
Rhythm N Reel
Mind Funk
Hoodja
& More!
GoNorth Seedlings Stage 2013
Cleavers
Prides
Casual Sex
Roiman Nose
Blood Relatives
Red Ronson
Ranald
Dylan Tierney
Crystal Seagulls
Three Blind Wolves
Garden Of Elks
Fat Goth
St. Max And The Fanatics
Fake Major
State Of Flux
Bear Arms
Little Fire
Lionel
FaR
Taghta
Craic It Open Ceilidh (Thursday Night)
Rhythm and Reel
Mind Funk
Hoodja
Audience leaflets and car parking passes can be downloaded here: Audience Leaflet, Car Parking Passes


Portaloo Sunset will be located adjacent to the red campsite, just across from Mothers Ruin at the Arena entrance. From some parts of the green campsite, this is a short walk though it is a considerable distance from the yellow campsite and the campervan area.
Please ensure you are happy with this location before buying your ticket as no refunds will be given.


Ticket Returns and Resale:
If for some reason you are unable to make it to Belladrum, or you no longer want to go, please follow the guidelines below for ticket returns and sale of tickets;
PRINTED TICKETS: If you have a printed ticket (ie not an e-ticket bought via www.skiddle.com) the only approved way of buying and selling these is the ethical secondary ticketing site www.thetickettrust.com where the ticket changes hands for its original face value. We do not advise buying or selling on any other sites including social networking sites, eBay or Gumtree. Free tickets for children 12 and under cannot be acquired in this way. If you acquire tickets via the Ticket Trust, please email admin@tartanheartfestival.co.uk for parking passes and information leaflets.
E-TICKETS: If you have an unwanted e-ticket of any type including campervan/ caravan, you are advised to get in touch with directly with Skiddle who issued these by emailing support@skiddle.com with your order number. If Skiddle can find a willing buyer for the tickets, they will cancel and reissue them. You will be refunded minus the booking fee.
Artist Information
Venue Information
Belladrum Estate
By Beauly, Inverness-shire
Inverness
IV4 7BA

Phone: ,
Music Genres
Acoustic, Electronic, Folk, Indie, Jazz, Pop, World Music
The event information, content and images shown have been provided by the event promoter. If you wish to report an issue with this event please click here: Report issue with event
View Belladrum Festival 2013 on Skiddle.com
View Belladrum Estate on Skiddle.com